In todays world of Fake News, True Original Documents can be a blessing to small and large organizations - as well as the students and companies who receive accreditations as proof of skills, or accomplishments.
Achievements are the building blocks that enable us to construct a positive sense of self. Each block move us closer to a feeling of success - or at the very least - further from a sense of failure.
Whether right or wrong, achievements provide tangible evidence which our colleagues, competitors and the wider world use to judge us as more or less successful.
The achievements we value most help form a version of ourself that has meaning and substance. They give us strength, and often courage. They matter.
True Original let companies make the most out of educational program, employee development programs and other valuable investements in staff. By securing documents that recognize their achievements and training, by making them easily shareable and impossible to fake and verifiable anywhere.

The True Original SaaS-plattform allows organizations to automatically create and distribute stunning digital records like certificates, diplomas, awards, honors, endorsements, memberships and other credentials - in fact, most offcial documents.
Visit www.TrueOriginal.com to issue your own True and verifiable records. (example below)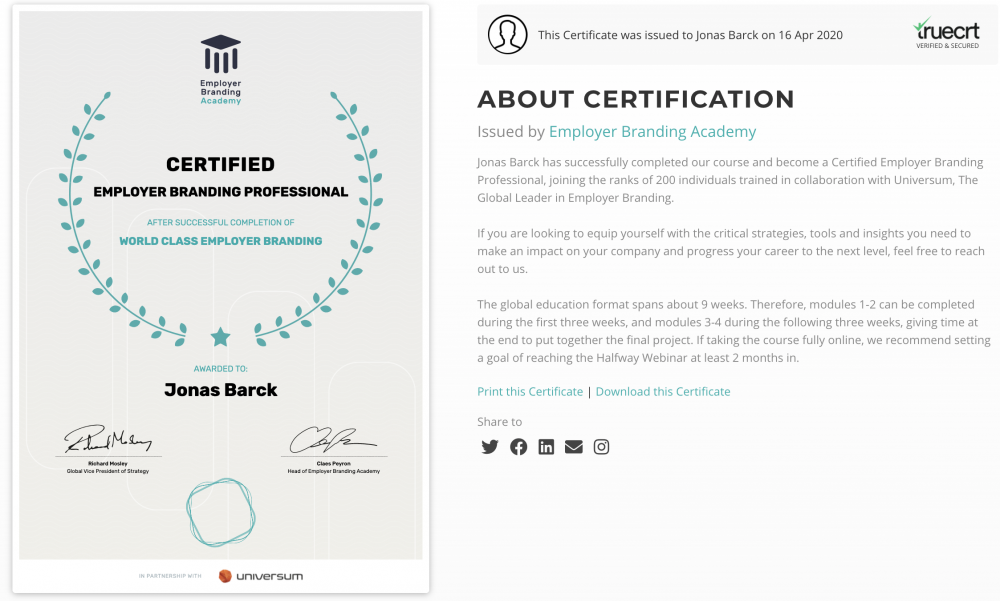 To learn more watch this video about TRUE Original Documents:
https://www.youtube.com/watch?v=pp4thQ--BPE