Original article in Swedish by Daniel Lindström, Café.

In recent years, several Swedish watch-brands have been succesfully launched - not least global phenomenon Daniel Wellington, but also brands such as Carl Edmond and Kronaby.

This month, it is BEU Watches turn. BEU is founded by entrepreneur and adventurer Johan Ronnestam and the focus of ​​BEU is clearly defined - Scandinavian minimalistic design and function (waterproof to 200 meters, scratch-free sapphire glass and luminescent hands) and the possibility of replacing bands to achieve varying appearance.

A strong connection to nature and an active lifestyle.
- The idea is based on a desire to free oneself from today's focus on technology and get closer to people, nature and culture, explains Johan Ronnestam. The watches are made for everyone who stands up for their own identity and is tired of fitting in.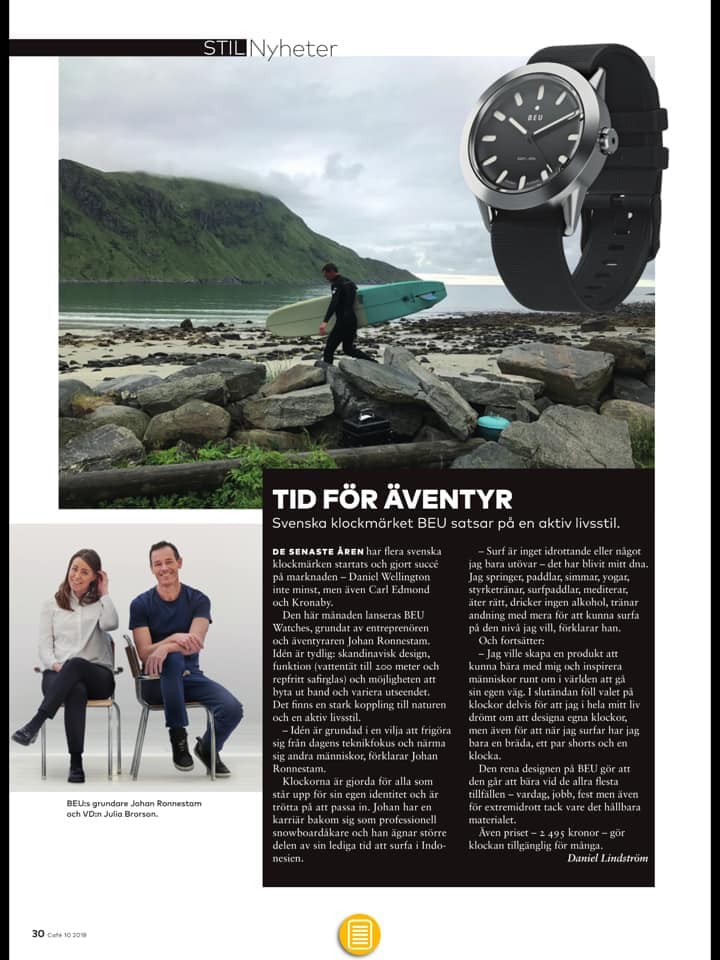 Johan has a career behind him as a professional snowboarder and he devotes most of his spare time to surfing in Indonesia.
– Surfing is not merely a sport to me or a way to exercise - it has become part of my DNA. I run, paddle, swim, yoga, strength train, paddle, meditate, eat right, drink no alcohol, train breathing, all to be able to surf at the level I want, he explains.

He continues:
- I wanteded to create a product that I could carry with me to inspire people around me to take their own path. In the end, the choice of doing a watch was in part because I had deamt my entire life of designing my own watch, but also because when I was surfing all i needed was a board, a pair of shorts and a watch.

The clean design of BEU means that it can be worn in most occasions - for everyday use, at work or a party, but also during extreme sports thanks to the durable material.

Prices range from 2,495 SEK to 2,995 SEK - which also makes them available to most people.