AS THE GLOBAL EXPERIENCE ECONOMY IS BOOMING, THIS COMPANY IS DEAD-SET ON LETTING CLIENTS EXPLORE ONLY THE BEST-OF-THE-BEST. VELOCITY BLACK PROVIDE SWIFT ACCESS TO ALL THINGS HOT AND EXCLUSIVE BY COMBINING TECHNOLOGY, SERVICE, AND A NETWORK OF PEOPLE WITH INSIDER CONNECTIONS.
We have been buying convenience for years now. Companies like Uber, Netflix and Spotify changed how we hail a cab, watch TV and listen to music. Meanwhile, Amazon is changing how we shop, by re-imaging distribution and offering next-day-delivery, one-click-ordering and no-hassle returns. The same principles of convenience and customer-control can be applied to lifestyle. We are more than willing to pay for 'smoothness', which in a word sums up what Velocity Black want for their clients.
The experience-economy is growing and for those with means, that economy and its opportunities are global. Where we go and what we experience are in some ways becoming more important than what we have. As more and more people set their sights on visiting exotic places and attend lavish events the number of companies wooing us for attention grows. They want us to travel with them, to sleep at their hotels, and dine at their restaurants. With all those options it's not easy to pick the things that are truly great. How do we choose what is right for us?
45.000 + Unique Bookings
Velocity Black has helped their members do exactly that; successfully guiding and booking over 45,000 extravagant adventures, travel and dining experiences to date. The owners are wholly committed to have their members connect over extraordinary experiences and the company is expanding every month, even though the Velocity Black membership is by invitation only and comes with yearly prize-tag of 2800 USD + a one-time signup fee, the company grew 848% last year, making them the fastest growing company in the UK (of companies with revenue over 1M€).
Velocity Black's members are active, busy and have money to spend. Time, on the other hand, is something they don't have. And friction, is something they don't want.
CEO and co-founder Zia Yusuf explains Velocity Black's basic beliefs; "Successful people tend to focus on their work until it's time to do something fun, then they want a quick and easy way to reserve a great experience without hazzle. Our ability to curate the best choices give our members confidence in every decision. "
He continues, "Our service was built to liberate people and let them be the people they want to be. To live a limitless life, full of moments that matter. "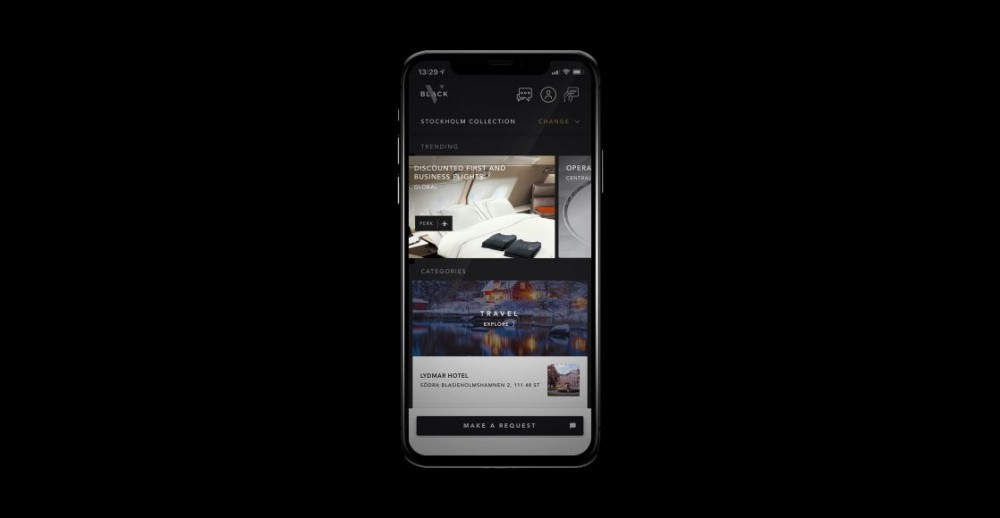 Space Travel, Championship Boxing & The Oscars
After joining and paying the annual fee, members get access to a proprietary app which serve up a list of exclusive experiences, like flying to the edge of space, attending the Oscars afterparty or a private event at Coachella. They can book boxing lesson with a former Heavyweight Champ, or sing with a Tenor from the Swedish Royal Opera. On average, members open the app 3 times per day and book trips or experiences about 40 times per year.
The deep understanding of their consumer has helped Velocity Black focus on 2 key issues when growing their service.
1) Technology: The app is sleek and simple to use. It allows members to make request by typing & chatting, instead of hanging on the line and waiting for an answer. A booking coordinator will respond to requests within 60 seconds day or night, and expedite the booking. There is an AI built into the app which learns about each member and with time will help suggest better choices matched up with individual preferences.
2) People: Velocity Black has built a unique network of well-connected people, and coupled that network with a knowledgeable travel department. This makes them able to execute difficult requests, get hotel-upgrades and executive business-flight rates.
We asked Patrik Slettman who is advising the company about his experience of connecting great venues to the world of Velocity Black;
"It was clear to me right from the start how hard the team at Velocity work to make this service something special. They want to make people's lives easy and fun, they know their stuff, and they care about both their members and their partnerships. It's a win-win for both the hospitality operators and the members, because Velocity adds a layer of insight on both sides. -Plus the obvious advantage of added convenience for the guest of course."

Commitment to Personalized Service
Those recommended to join can set up a call with a Velocity Black team-member who will help answer specific questions about the service. Once a member has signed up, Velocity gather basic info like frequent flyer programs and birthdays, but also more intimate details like dietary requirements, anniversaries and travel preferences. The knowledge about each member lays the foundation for a customized experience which stands out in today's world of generic offers.
The world is an incredible place and the experiences are endless. To even try to keep up with all that is offered is unthinkable for any one person, which makes us think that as long as Velocity keep their focus, they will have people line up to help them experience the best of the best.
(Article originally from Milestone Magazine)
Request to join Velocity here. Someone will contact you shortly.