CAN THE VIGILANCE OF A 16-YEAR-OLD HELP SWAY THE POWERS OF OUR PLANET?
Last week, the unique conference called Brilliant Minds took place in what its founders call the capital of creativity, Stockholm. The yearly event aims to scale "Swedish values," rooted in openness, transparency, equality and social responsibility, and marry them with the spirit of the entrepreneur— a fearless, free and results-driven mindset— in order to convene great people to do great things for a world.
Although inclusivity and openness are inscribed goals for the foundation, the event itself is far from an easy ticket. Actually, you can't buy one to get in; tickets are not for sale at any price.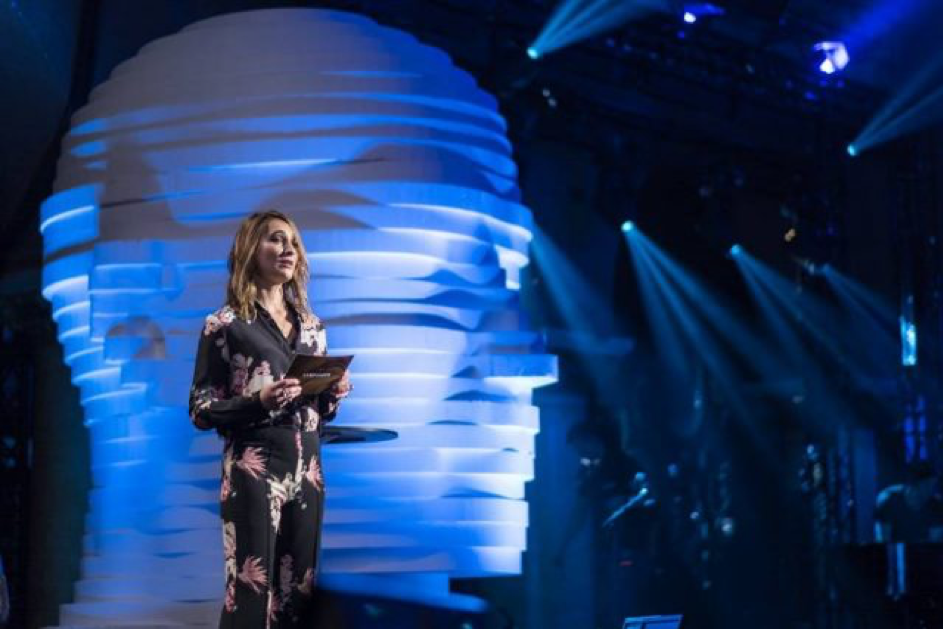 LEADERS, CELEBRITIES, & ROYALTY
The list of invitees and speakers are curated by a small group of people who are part of the inner circle of Brilliant Minds' founders. This in itself might seem elitist, and in a way it is, of course. However, when you gather a group of individuals for two short days with a goal to create change, it might help to find common ground quickly. Several CEOs and celebs we've spoken to express that the exclusivity makes the regular vetting process (they otherwise often feel bound to) much less of a thing here, which in turn makes for more relaxed conversations that start easy and go deeper—hopefully, resulting in the desired impact. The Financial Times has called the event 'The Creative Davos," and this year it was stacked with artists (Cardi B and Offset), leaders and entrepreneurs (John Kerry, Diane von Furstenberg, Evan Spiegel, and Gary Vee), actors (Gwyneth Paltrow, Forest Whitaker, and Joel Kinnaman), and even royalty (from Sweden).


QUE A 16-YEAR-OLD GIRL IN PIGTAILS
In the midst of all this hype, press and unattainable tickets, a 16-year-old Swedish girl stepped up to the podium and calmly spoke to the crowd of VIPs, urging them to act by saying:
"You are the people who can affect change. Future generations count on you."
"Don't let us down."
Less than one year ago, the girl in question was sitting at her local high school unable to shake her worries about rising global temperatures—desperately trying to figure out ways to get Swedish lawmakers to take notice of what in her mind is today's most urgent challenge, climate change.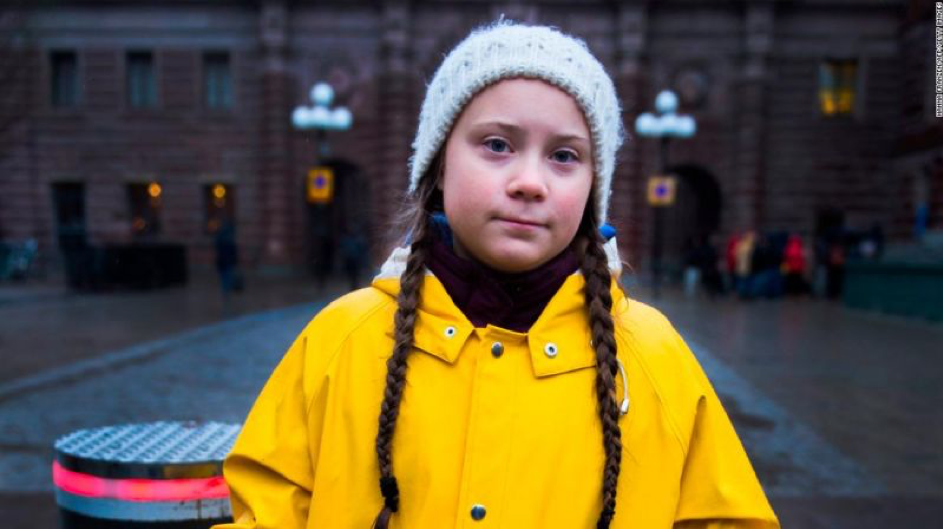 Greta Thunberg was born in Stockholm 2003, and she became aware of global warming at the age of eight. The topic affected her deeply, and she told her mom and dad that she couldn't understand why this wasn't the biggest news story on TV every single night. Shortly thereafter, she persuaded them to make radical changes to their diets—and even got her parents to stop flying, which is a decision that had a major impact on her mom's career as an opera singer. A few years later, Greta would get many more people to listen to her convictions. Inspiration came from the American high school where students walked out of school together after the horrendous shooting at Stoneman Douglas High School in Parkland, Florida in protest of the relaxed United States gun laws.


THE BEGINNING
Greta set out to do a protest of her own by conducting a school strike, and she did in so August of 2018 outside the Swedish parliament in central Stockholm.
Since she couldn't convince her classmates to join, she sat down alone with a homemade sign and soon the local media became aware. Greta answered questions and spoke with great resolve about the issues, and people quickly took notice of the little girl with a big message.


FAST FORWARD 10 MONTHS
Greta has since continued her demonstrations. She's spoken to the press time and time again, and in the process inspired millions of kids and young adults in hundreds of countries to stage their own walkouts or strikes in protest of governing leader's inability to act with urgency. Thunberg has spoken at the European Parliament,at TEDx, United Nations Climate Summit and with leaders at DAVOS. She's been nominated to a Nobel Peace Prize by members of the Norwegian Parliament, and featured on the cover of TIME magazine.
Most recently at Brilliant Minds, she met and was encouraged by Barack Obama.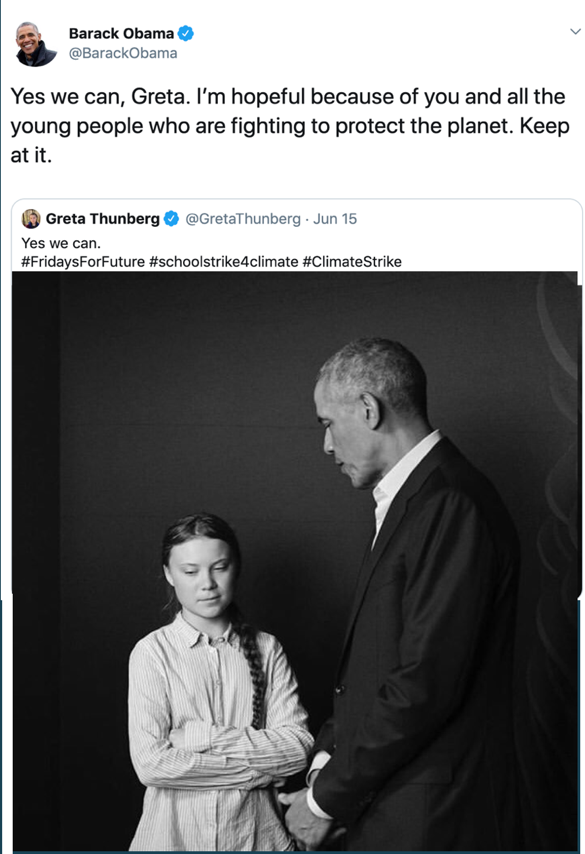 CRITICS
Critics of Thunberg has sad that she "doesn't fully understand the issues," her thinking is "too ideological," and "she shouldn't be encouraging kids to skip school." All of which are ridiculous statements, as none of them consider her straightforward goal; to reach leaders and get them to adapt changes which lead to a better climate. ….or in Greta's own words:
"Save the world by changing the rules."


OUR BEST HOPE?
Young Thunberg may be the best vessel we currently have to get governments around the world to listen to this message of change. Here's why:
Greta uses all that she has at her disposal to get leaders attention. She faces everyone she meets head-on and clearly communicates the facts we've all heard; the facts that tell us we are heading down a dangerous path. She addresses the power our leaders have, and then she reminds all of us of the awesome responsibility that comes with that authority. Greta does all of this in a way that only a young person can—with purity, and without having been part of the problem, while shaming all of us who have.
When we think of climate change crusaders we think of the likes of Leonardo DiCaprio and Al Gore. Giants facing Goliath using films as stories, fame as their platform, and wealth as their means. However, Giants facing Goliath is not a story we cling to; Giants do not inspire us to match their outcry.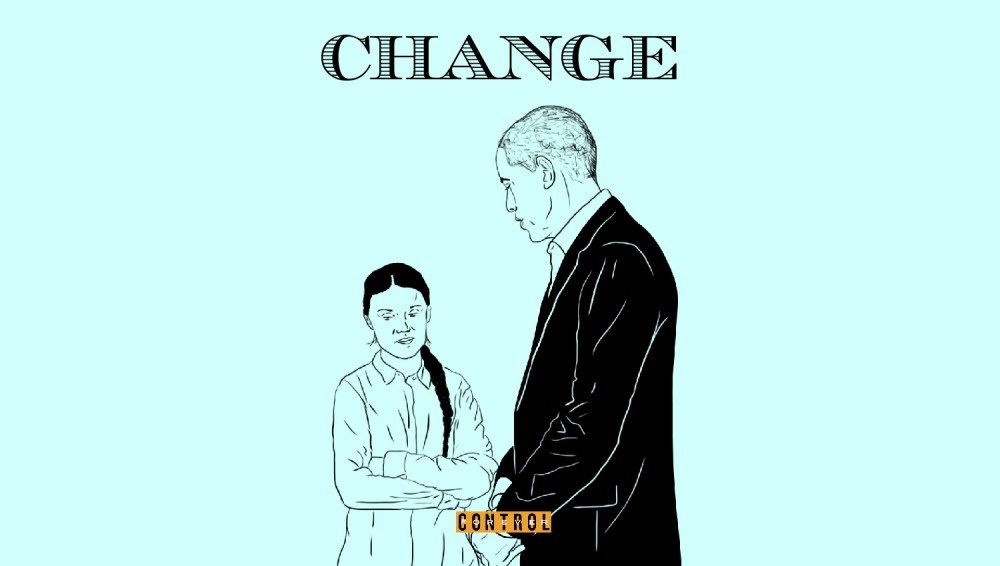 A HEROINES STORY
Greta embodies what storytellers have tried to create for ages. -She looks even younger than she is, and she has what many would call a disability, Asperger's. A diagnosis her parents say gives her focus—a focus they say is of great value on this path of hers right now.
Greta is, as storytellers would put it; A heroines with no extraordinary powers besides conviction, with no real chance of winning. Using strenght she didn't know she possessed she makes herself heard -and listened to. She rallies the rest of us, and makes the most out of each important moment by speaking with a young person's voice -perfectly imperfect, every time.
Greta is doing what the rest of us wish we got to do at least one time in our life… To stand up strongly and gracefully for what we believe in, driven by our passion.